Tickets are Now Available for our
Sixth Annual Spring Gala
Saturday, April 25, 2015 at the VE Cub
at 130 Davisville Road in Warminster
This year's event features Phil Rossomando of the Planetary Society. Phil will be speaking on the issues surrounding interstellar space exploration.  Given NADC's historic position in having prepared the nation for its initial forays into space, and with renewed focus on travel to Mars, we are happy to welcome Mr. Rossomando to our event.
All proceeds benefit the educational outreach efforts of the NADC Museum and help to preserve the original centrifuge gondola. Come out for a wonderful evening, and us help inspire today's youth to explore Science, Technology, Engineering and Math careers.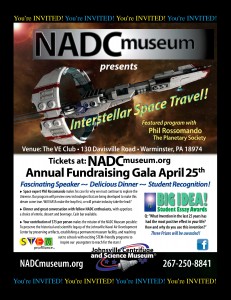 Tickets are $75 each with tables of 8 and special corporate sponsorships available. You can buy your tickets now by using the "Donate" button on the left hand side of our website to pay securely through PayPal. Make sure to include your name, the number of tickets desired and your meal choices (Filet Mignon, Salmon, or Vegetarian) in the notes section of the PayPal form.
Alternately, you can download the ticket order form here and send it with your check made out to "JCSM" to P.O. Box 2014, Warminster, PA  18974.
If you want to take your support of STEM learning and historic preservation to a higher level, you may want to consider a sponsorship at one of the levels outlined here.
We look forward to seeing you on the 25th!
ATTENTION STUDENTS!
Enter our "Big Idea" Essay Contest
and you could win tickets to our Gala!
Announcing the "Big Idea Essay Contest", open to student in grades 3 through 12. Wire an essay on "What invention in the last 25 years has had the most positive effect on youn life and how and why you use this invention", and you could win tickets to the gala. Essays should be between 200 and 500 words and will be judged on accuracy, creativity and originality. All essays must be submitted by April 15, 2015 to events@nadcmuseum.org  Click here for further details.