Archive for the 'Original Gondola' Category
Tickets are Now Available for our
Sixth Annual Spring Gala
Saturday, April 25, 2015 at the VE Cub
at 130 Davisville Road in Warminster
This year's event features Phil Rossomando of the Planetary Society. Phil will be speaking on the issues surrounding interstellar space exploration.  Given NADC's historic position in having prepared the nation for its initial forays into space, and with renewed focus on travel to Mars, we are happy to welcome Mr. Rossomando to our event.
All proceeds benefit the educational outreach efforts of the NADC Museum and help to preserve the original centrifuge gondola. Come out for a wonderful evening, and us help inspire today's youth to explore Science, Technology, Engineering and Math careers.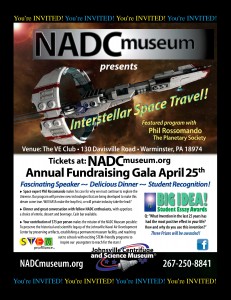 Tickets are $75 each with tables of 8 and special corporate sponsorships available. You can buy your tickets now by using the "Donate" button on the left hand side of our website to pay securely through PayPal. Make sure to include your name, the number of tickets desired and your meal choices (Filet Mignon, Salmon, or Vegetarian) in the notes section of the PayPal form.
Alternately, you can download the ticket order form here and send it with your check made out to "JCSM" to P.O. Box 2014, Warminster, PA  18974.
If you want to take your support of STEM learning and historic preservation to a higher level, you may want to consider a sponsorship at one of the levels outlined here.
We look forward to seeing you on the 25th!
ATTENTION STUDENTS!
Enter our "Big Idea" Essay Contest
and you could win tickets to our Gala!
Announcing the "Big Idea Essay Contest", open to student in grades 3 through 12. Wire an essay on "What invention in the last 25 years has had the most positive effect on youn life and how and why you use this invention", and you could win tickets to the gala. Essays should be between 200 and 500 words and will be judged on accuracy, creativity and originality. All essays must be submitted by April 15, 2015 to events@nadcmuseum.org  Click here for further details.
Retired NASA Astronaut and U.S. Navy Captain Christopher J. Ferguson is slated to attend our Fifth Annual Spring Gala to benefit our educational and community outreach efforts. The event will also raise funds for the restoration of the original training capsule, or gondola, of the Johnsville Centrifuge. The event will be held at the VE Club at 130 Davisville Road, Warminster, PA on May 10th at 6 PM.
To celebrate the event, the Bucks County Herald has partnered with us to give local students a chance to attend the event by submitting an essay answering the question, "Why is Science Education Important?" Students may enter in one of three divisions; grades 1 through 4, grades 5 through 8, and grades 9 through 12. All entries must include the student's full name, school, grade as well as the student's or parent's phone and e-mail contact information.
There is no minimum word requirement for grades 1 through 4, while entries in the other two divisions must be between 200 and 300 words in length. All entries must be submitted via e-mail to events@nadcmuseum.org no later than Saturday, April 26, 2014. One winner in each division will be awarded three tickets to the event to enable them to  attend with two guests.
We are an all-volunteer organization dedicated to preserving the legacy of innovation born of the Johnsville Naval Air Development Center (NADC), and using that legacy as a springboard to encourage students to explore careers in Science, Technology, Engineering and Math (STEM). Located near the intersection of Street and Jacksonville Roads in Warminster until it closed in 1996, NADC was home to numerous U.S. Navy research labs where technologies as diverse as photo-grey lenses, flight data recorders ("black boxes") and GPS were developed. One of those labs was the centrifuge at NADC, best known for its work in training the Mercury, Gemini, Apollo and early Space Shuttle astronauts.
The Spring Gala is our marquee event of the year. You can image how excited we are to have Captain Ferguson as a speaker. Not only was he Commander of the final US Space Shuttle mission ever to be flown, but he also came to NADC as part of his training when he was a Navy pilot. The Gala promises to be a memorable event. We are also excited that the Bucks County Herald has partnered with us to help promote the event and this essay contest.
In addition to our educational and community outreach efforts, we are working to preserve the original centrifuge gondola. Dubbed the Mercury 7 Gondola, it was used to train all of America's early astronauts, including Alan Shepard, John Glenn and Neil Armstrong. It was housed in a Smithsonian Institution storage yard from 1963 through 2011 where it was, unfortunately, exposed to the weather. It was returned to Bucks County in May 2011 and is currently on public display outdoors at the Penn State Anechoic Chamber, 300 W. Bristol Road, Warminster. Museum volunteers are working with Warminster Township to secure a parcel of land in Warminster Community Park on which to build a pavilion that will house the preserved gondola.
Additional information about our efforts and the event may be found at our website at www.nadcmuseum.org , by contacting events@nadcmuseum.org or calling 267-250-8841
Last night we held our Fourth Annual Spring Gala at the Vereinigung Erzgebirge ("VE") Club in Warminster. Thanks to all who came out and helped to make it a special event.  We were honored to have in attendance four Tuskegee Airmen: Mr. Roscoe D. Draper, Maj. John L. Harrison, Maj. Bertram A. Levy, and Dr. Eugene J. Richardson, Jr. As part of the program, we were treated to a special historical interpretation of the life of Bessie Coleman (the first black woman to receive an international pilot license) by Dr. Daisy Century, and we got a great first hand presentation on unmanned aerial reconnaissance and surveillance vehicles by Tom Fenerty, President and CEO of Navmar Applied Sciences Corporation (NASC), one of the nation's leading defense contractors in this technology.
In addition to the opportunity to rub shoulders with history, last night was a great opportunity for us to share our interactive traveling exhibits which have been presented to numerous scout and school groups and to unveil our architect's rendering of the Mercury 7 Gondola pavilion that we will be proposing to Warminster Township for placement in Warminster Township Community Park on the grounds of the former NADC Johnsville. It has been our honor since the founding of our organization to present the history of innovation of the former NADC Johnsville as a springboard to inspire area youth to pursue STEM careers.
Of course, the success of our gala and everything we do is made possible by the support of our friends and sponsors, including last night's Mercury Level Sponsors, Navmar Applied Sciences Corporation and the Dombrowski Family and Chicago Title Insurance Company. Our thanks again, to all who attended and made this such a memorable event.
Tickets are now available for our Fourth Annual Spring Gala to be held on June 8, 2013 at the VE Club on Davisville Road in Warminster. This year's event features raffles and silent auctions as well as remarks by Navmar Applied Technologies CEO Tom Fenerty. Proceeds will benefit the educational outreach programs of the Johnsville Centrifuge and Science Museum which seeks to inspire students to explore Science, Technology, Engineering and Math careers by telling the story of the innovations which came out of the labs at the Johnsville Naval Air Development Center in Warminster.  The Gala will also help to raise funds for the preservation of the original Johnsville Centrifuge gondola. We look forward to having you join us. A ticket order form can be downloaded by clicking here. Information on sponsorship opportunities is available by contacting events@nadcmuseum.org or by calling 267-250-8841.
—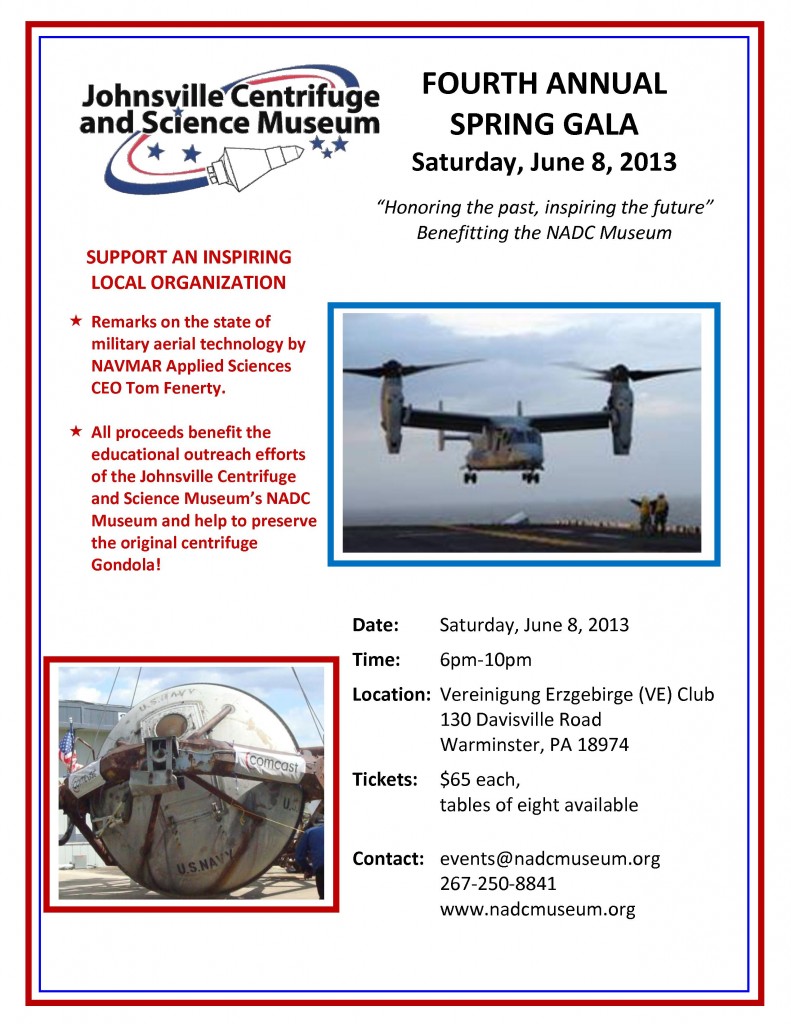 Tickets are now available for the third annual Spring Gala to benefit the Johnsville Centrifuge and Science Museum. The event will be held on April 28th from 5 to 10 PM at the VE Club at 130 Davisville Road, Warminster, PA. Tickets are available for $65 each with tables of eight and ten available.
As you may know, this past year saw the return of the original centrifuge gondola to Bucks County after 47 years at an outside storage yard in Maryland. In addition to our educational outreach programs, proceeds from this year's event will go towards preservation of this important and unique artifact that was used to train the likes of Alan Shepard, John Glenn and Neil Armstrong.
The program for this year's gala will include remarks by Dwayne A. Day, Space Historian and Senior Program Officer for the Aeronautics and Space Engineering Board of the National Research Council/National Academy of Sciences. Dr. Day also served as an investigator on the Columbia Accident Investigation Board in the wake of the disintegration of STS-107 during its reentry on February 1, 2003. Dr. Day will speak on the topic of the history of the US Space Program and little known facts about the Russian Space Program. It promises to be an interesting and informative evening.
Please help us honor the contributions made by our local community and inspire the youth of today to reach for the stars in all they do. Information about special sponsorship packages is available by calling 267-250-8841. Your sponsorship and/or attendance at this event will be much appreciated. If you are a local business owner and you would like to donate an item for the silent auction you may contact us at the above number or at nadcmuseum@comcast.net
50th Anniversary of NASA Milestone
Recalls Local Involvement in the Space Program and
Provides an Opportunity to Inspire Future Leaders
"Zero Gs and feeling fine!"  With those five words Mercury astronaut John Herschel Glenn, Jr. signaled that his spacecraft, Friendship 7, had entered its first of three orbits at approximately 2:52 p.m. on February 20, 1962. Four hours and fifty-five minutes later, his capsule would splash down and Glenn would become an iconic national hero – the first American to obit the earth. He would go on to serve 25 years in the U.S. Senate, and enter space history again in 1998 when, at the age of 77, he became the oldest person to fly in space on Space Shuttle Discovery (STS-95). Along with Scott Carpenter, John Glenn is the last surviving Project Mercury astronaut. He continues to be an outspoken advocate of America's continued exploration of space. There is no doubt that Glenn's flight fifty years ago paved the way for the moonwalk that Neil Armstrong and Buzz Aldrin would make almost seven and a half years later.
Those who lived through those days remember that the astronauts were, to put it in today's parlance, "A-list" celebrities. They received extensive media coverage and often were honored with tickertape parades on Broadway upon their return from space. While there were many spin-offs from the space program that have made modern life better, perhaps the most important is that the feats of the Mercury, Gemini and Apollo astronauts inspired a generation of children to pursue technology-based careers in science and engineering. After the Apollo moonwalks and with the advent of the shuttle program in the 1980's spaceflight became "routine" and public interest in the space program generally waned.
While Bucks County is rich in early American history, local citizens are just starting to learn that before taking to the heavens Glenn and the rest of the NASA astronauts from those early programs came to Bucks County to prepare for the rigors of space flight on the Johnsville Centrifuge, the largest and most powerful human centrifuge ever built. As a matter of fact, the centrifuge gondola (capsule) used to train Glenn and other early astronauts is on public display at the Penn State Anechoic Chamber at 300 W. Bristol Road in Warminster, having returned from a Smithsonian storage facility where it was hidden from public view for over 45 years.  Plans are in the works to begin preservation work on this important artifact.
The Johnsville Centrifuge was just one of dozens of labs at the former Naval Air Development Center (NADC) in Warminster, PA where much of the technology we enjoy today was developed and tested. The Johnsville Centrifuge and Science Museum is a small group of dedicated volunteers working to preserve the legacy of Bucks County's connection to the space program and to tell the story of the high tech work done at NADC, including refinements to GPS and the development of light sensitive lenses that are part of our everyday life. We believe that our area's involvement in the space program can serve as an inspirational springboard to encourage our youth to explore the careers in technology that are so vital to our country's future.
We encourage readers of this to use the 50th anniversary of the Friendship 7 mission as a conversation starter with their children or grandchildren. Ask them if they know who John Glenn is and what they know about the space program. Share with them what you remember about growing up in the space age. If you are old enough, tell them where you where when Neil Armstrong and Buzz Aldrin walked on the moon. You might be surprised; you may find out they have an interest in space and might even want to become an astronaut.
With today's "heroes" often coming from the fields of sports and entertainment, there are very few, if any, high profile role models in today's culture to encourage children to explore science and technology careers. Additionally, local, state and federal education budgets continue to be cut in the face of mounting deficits. The museum, along with its sponsors and partners, sees it as their mission to inspire the youth of today. This past month the museum hosted the students of the Commonwealth Connections Academy and their mobile classroom and participated in the Quarry Hill Elementary School Science Fair. It continues to develop its educational outreach programs. 
We salute Col. Glenn on the 50th Anniversary of his milestone mission and thank him, and all active military and veterans, for his dedicated service to our country.
Michael Maguire President Johnsville Centrifuge and Science Museum
Dear Friend of the Museum,
It is now time to look ahead to 2012, but before we do lets reflect on the accomplishments of the past several months. As we look back on 2011 we realize that we have had a very good year indeed. Our success is entirely due to our friends, supporters, sponsors and our tireless volunteers. A few highlights from 2011 include:
The return of the Mercury 7 Gondola to Warminster on May 5th coinciding with the 50th anniversary of Alan Shepard's historic flight. The gondola was held at the Smithsonian Institute's National Air and Space Museum's storage yard in Suitland, Maryland for the past 47 years. Special thanks to Comcast and the History Channel for making the move possible.
A wonderful Spring Gala held in May and highlighted by two special guests, Art Guntner who assisted the Mercury Astronauts and who rode the centrifuge over 350 times himself related his unique oral history. He was joined by Derrick Pitts, Chief Astronomer for the Fels Planetarium at the Franklin Institute who delivered an inspiring story of his own.
The return of the Iron Maiden in August brought out many who worked with Flannigan Grey when he set his near unbeatable world record with the device in 1958.
A wonderful time at Warminster Day in September where we had an opportunity to display some exhibits in our "Museum in the Park" that are on loan from the Patuxent River Naval Air Museum in Maryland. We were also fortunate to have the weather cooperate for a flyover by a Navy F-18 that thanks to the coordination and support of Congressman Mike Fitzpatrick. The pilot was called in by NADC's own Bob Campbell.
A special "friendraising" evening on December 8th at the Campbell Classic Auto Museum in Doylestown where supporters got to see some of the centrifuge couches that we have acquired from the National Air and Space Museum.
We could not have done any of these things or achieved any of our goals in 2011 without volunteers or supporters like you who have given so much of their time to make the museum the success that it has become.
We look forward to a busy and exciting 2012 as we continue to raise funds to preserve the Mercury 7 Gondola, make plans to celebrate the 50th Anniversary of John Glenn's historic orbital flight in February and hold our Third Annual Spring Gala in April. Our education programs kick off in January with a visit form a traveling classroom followed shortly by our first participation in a science fair in February. We look forward to another special year as we create a place that honors the history of innovation at NADC and inspires our youth to reach for the stars in all that they do.
Thank you for your support.
Michael Maguire
President
Johnsville Centrifuge & Science Museum
Johnsville Centrifuge and Science Museum to Showcase Artifacts on Loan from Patuxent River Naval Air Museum
Johnsville Centrifuge and Science Museum will be participating in this year's Warminster Day this Saturday, September 10 from 11AM to 4PM at Warminster Community Park by featuring some recently acquired artifacts that have never been on display in the local area in a unique "Museum in the Park" setting.
Among the artifacts to be displayed will be a 1970s era test wing from an early pilotless drone and the 1950 dedication plaque from the centrifuge building, both of which are on loan from the Patuxent River Naval Air Museum (http://paxmuseum.com).  In addition, a rare fiberglass contour couch that was used for training in the centrifuge will be on display. The contour couch was acquired by the museum from the Smithsonian Institution's National Air and Space Museum.
NASA Ambassador Presentations
to Occur Throughout the Day
Also included in the program will be Dr. Ann Schmiedekamp, NASA Solar System Ambassador and Professor of Physics at Penn State University, who will be giving presentations throughout the day on the challenges involved in interplanetary travel.  Dr. Schmiedekamp is one of a handful of NASA Solar System Ambassadors in the country.
 Special Interpretive Programs to be Offered
at Mercury 7 Gondola 
 The museum will also be providing a special interpretive program at the Mercury 7 Gondola – the original centrifuge capsule that was in use from 1950 through 1963 which was brought back to Warminster earlier this year after 47 years in storage at the Smithsonian Institution. All of the Mercury and Gemini astronauts stepped into the Mercury 7 Gondola as part of their training.
In addition, Art Guntner, a retired Naval Chief who rode the Johnsville Centrifuge over 350 times and who personally helped to train the Mercury astronauts will be available to meet attendees and share his stories.
"We are thrilled to be a part of the Tricentennial festivities at Warminster Day this year,' said Michael Maguire, President of the museum. "In its day NADC was the largest employer in the county where many important technical developments were made. We feel it fitting that we will be exhibiting these artifacts at an event that is taking place on the old runway of the facility. We are especially thankful to the Pax River Museum for the loan of these artifacts as well as to NASA and Dr. Schmiedekamp for generously agreeing to be a part of this event. It will be quite a day."
Below is the text of an editorial that appeared in the Daily Intelligencer on Monday, May 9, 2011.
History made here
America's space program has roots in Warminster
IT WAS ALL so new then, so unfamiliar, so much like something out of Capt. Video: On May 5, 1961 – 50 years ago – astronaut Alan B. Shepard, one of the original seven U.S. astronauts, became the first American in outer space.
The Russians had beaten us to manned flight – Yuri Gagarin did it in April of that year – just as they had shocked the United States and the world years earlier with the launch of Sputnik, the first artificial satellite.
By comparison, Gagarin's ride – a 108-minute orbital trip – made Shepard's 15-minute suborbital journey seem like a walk across the street.
Nevertheless, Shepard was hailed as a national hero with parades in several cities. President John F. Kennedy awarded him a medal. More importantly, Shepard's "foot in the space door" launched America's manned space program, which eventually overtook the Soviet Union's and culminated with the first moon landing, Apollo 11, in July 1969. Shepard himself would walk on the moon in 1971 as the commander of Apollo 14.
Shepard retired from NASA in 1974 and died of leukemia on July 21, 1998, 21 years to the day after the first moon walk. Though he'll never be forgotten as America's first space pioneer, he's back in the news for a couple of reasons.
Last week, the U.S. Postal Service issued a first-class stamp in Shepard's honor.
And in an event much closer to home, the original centrifuge gondola that Shepard trained in during Project Mercury was returned to Warminster Township, where the former Johnsville Naval Air Development Center once was home to the world's largest human centrifuge. The arrival of the gondola on May 5 coincided with the 50th anniversary of Shepard's first flight.
Many other astronauts from the Mercury, Gemini and Apollo programs came to the NADC to ride the gondola and experience the effects of high G-forces that they would later be subjected to during launches.
After its days of spinning astronauts were over, the gondola became part of the collection at the Smithsonian Air and Space Museum in Washington. But its place at the Smithsonian for well over four decades – in an outside storage yard, away from public view – hardly did proper justice to such a key contributor to the U.S. space program.
According to the Johnsville Centrifuge and Science Museum website, the return of the gondola to its home in Warminster is part of the Save Our History campaign sponsored by The History Channel.
Eventually, the gondola will be displayed at the centrifuge building.
That our early astronauts prepared for their journeys right in our own backyard is not a particularly well-known chapter in the story of America's space program. The centrifuge gondola's homecoming is a good reason to learn about the role Bucks County played in the nation's early exploration of the final frontier.
After spending the last 47 years safely stored at the National Air & Space Museum's Paul E. Garber Preservation, Restoration and Storage Facility in Suitland, Maryland, the original gondola of the Johnsville Centrifuge will be coming home to Warminster on May 5th, the 50th anniversary of Alan Shepard's historic flight. The gondola's return is being made possible as the result of a grant from History Channel in partnership with Comcast as part of the network's Save Our History® campaign dedicated to historic preservation and history education.
The festivities are set to include a "Welcome Home" ceremony at 12:45 PM on May 5th at the Bucks County Visitor's Center at 3207 Street Road in Bensalem (in front of the PARX casino). The gondola will be at the Visitors Center between Noon and 2. At 2PM the gondola will head up Street Road under police escort and will work its way to the Penn State Anechoic Chamber located on Bristol Road at the Warminster Community Park where it will be offloaded.
Everyone is invited to come out and witness this historic occasion. Tell your friends and have them come out too. Keep an eye out for more details in the coming days.