A NIGHT TO REMEMBER: APRIL 4, 2020
Special Titanic Last Meal Event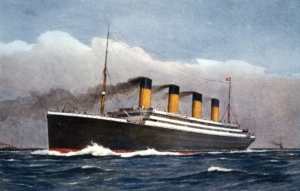 Join us for A Night to Remember – a special fundraising event featuring a recreation of the last meal served on the R.M.S. Titanic. This once in a lifetime event will take place from 6:00 PM to 10:00 PM on Saturday April 4, 2020 at Spring Mill Manor at 171 Jacksonville Road, Ivyland, PA 18974. In addition to an elegant seven course menu recreating the final meal served in the first class dining room aboard the R.M.S. Titanic, the event will include a champagne  toast, a live quartet playing period music and will feature an exclusive exhibition of never before seen Titanic artifacts from the private collection of renown Titanic expert Craig Sopin. Come dressed to impress or in your finest period clothing. 
Tickets are now available for $150 per person. Select the number of tickets desired below and click the "Buy Now" button to go to our secure PayPal page to order your tickets.  Make sure to include your contact information with your order. If you prefer to send a check, you can download an order form by clicking here. Orders must be in by March 17, 2020.
If you or your business are interested in showing your support for our organization with a special sponsorship package, contact us at 215-208-4878 or at events@nadcmuseum.org . Proceeds from the event benefit the capital campaign of the Johnsville Centrifuge & Science Museum.
As always, thank you for your support. We'll see you on the 4th!