A NIGHT TO REMEMBER Special Titanic First Class Dinner Event
APRIL 9, 2022
Mail order sales are now under way for A NIGHT TO REMEMBER.   
Click here to download an order form.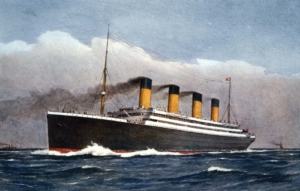 A Night to Remember will be a special fundraising event featuring a recreation of the last meal served on the R.M.S. Titanic. This once in a lifetime event will take place from 6:00 PM to 10:00 PM on Saturday April 9, 2022 at Spring Mill Manor at 171 Jacksonville Road, Ivyland, PA 18974. Scheduled to commemorate the 110th anniversary of the famed ocean liner's voyage, the event will feature an elegant seven course menu recreating the final meal served in the first class dining room aboard the R.M.S. Titanic.
Additionally, the event will include a champagne toast, a live quartet playing period music and an exclusive exhibition of never before seen Titanic artifacts from the private collection of renown Titanic expert Craig Sopin. Come dressed to impress or in your finest period clothing.
The menu for the evening will be as follows:
1st Course: Consommé Olga
2nd Course: Poached Salmon with Mousseline
3rd Course: Petit Hen, with Lyonnaise Potato, Veg. Marrow Farce, (Stuffed Zucchini)
4th Course: Roast Sirloin of Beef with Bordelaise Sauce, Green Peas, Creamed Carrots and Rice
5th Course: Intermezzo (Punch Romaine, Champagne Syrup, Ice and Wine)
6th Course: Cold Asparagus Vinaigrette
7th Course: Dessert Sampler – Waldorf Pudding, Chocolate & Vanilla Eclairs, Peaches in Chartreuse Coffee & Tea
Proceeds from the event benefit the capital campaign of the Johnsville Centrifuge & Science Museum.
As always, thank you for your support. We'll see you in April of 2022!